Cynthia Grande is the top debt negotiation attorney and family immigration lawyer in Los Angeles. She grew up in San Pedro, California, in a heavily Spanish-speaking neighborhood. Her parents were immigrants from El Salvador, during the Civil War, and pushed her to be the most educated woman she could be. She witnessed first hand the number of friends and neighbors that did not have the legal help they needed due to language barriers, lack of resources, education, or just plain fear.
The struggles these people went through, and the deep seeded need to help, is what inspired Cynthia to become the best negotiation attorney and family immigration lawyer in Los Angeles. Cynthia pursued her degree at the University of Southern California, and later, the University of the Pacific-McGeorge School of Law with her Juris Doctor degree.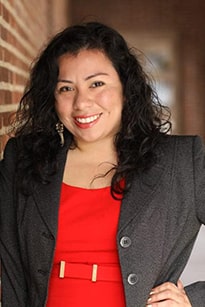 After school, she returned to her childhood area in the South Bay of L.A., to return to those she knew needed her most. Many people are afraid to contact a lawyer because they are afraid of the process and don't have much faith in the end result.
Cynthia's goal is to shift the conversation about working with family immigration lawyers in Los Angeles, so that clients know not only what to expect, but can have confidence in the process. She wants to set the example for law firms to provide the top level care and commitment.
She wants to be the guiding influence to help her customers navigate the legal situations they face with comfort and conviction, in hopes that they can again have a peace of mind.